The VTV 2022 advertising price list includes the advertising price list for VTV1, VTV2, VTV3, VTV4, VTV5, VTV6 with 7 types of advertising to help your business and company be known by many people.
Vietnam Television for short is VTV ( Vietnam Television ) is a national television station under the Government of the Socialist Republic of Vietnam.
Vietnam Television VTV includes channels: VTV1, VTV2, VTV3 , VTV4, VTV5, VTV6 with many interesting entertainment programs, feature films, game shows, attracting the attention of millions of Vietnamese people and the community. overseas.
Thereby, VTV advertising or VTV Ads contributes to promoting and increasing brand recognition, widely promoting to all television viewers.
Price list for TV advertising VTV 2022
Fame Media Co., Ltd would like to send to customers the latest price list of  VTV1, VTV2, VTV3, VTV4, VTV5, VTV6  televisions in 2022.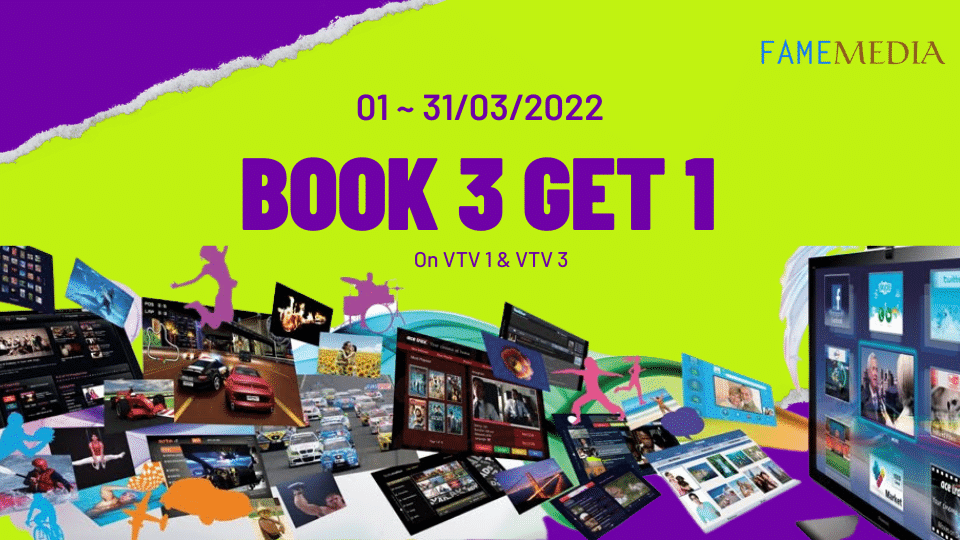 The prime time frame for VTV television advertising is defined as the time frame from: 17:00 to 21:00. This is the time frame with the largest number of viewers and of course this is also the most effective time frame for businesses to book TV ads .
[table "4" not found /]
What is a VTV TV advertisement ?
Television advertising has been a popular medium for entrepreneurs since the first TVs entered the living room.
Coupled with the presence of cable television, lower production costs and the opportunity to reach smaller, more targeted markets, make TV advertising a viable option for businesses. small and medium enterprises.
What is the effectiveness of advertising on VTV?
The effect or advantage of advertising on television is that it gives you the opportunity to reach a large number of domestic and foreign audiences from North to South, creating customers from people who are directly watching your media content. Friend.
TV advertising helps you convey your message with light, sound and emotion, which can create credibility for your company, product or service.
Television advertising gives you the opportunity to be creative and bring your personality to the ad, which will be especially effective for small businesses that rely heavily on patrons.
Types of VTV television advertising
1.  TV advertising with Logo:  With this form, the logo of the business will be placed in the appropriate position in the studio when filming programs, or when broadcasting programs, the logo will be inserted in the corner of the screen. .
2. Run text, panels when broadcasting programs:  Advertising messages will run below the TV screen while broadcasting TV programs.
3. Television advertising by TVC (Television Commercial): This is the most effective type of television advertising today. Each TVC usually has a duration of several tens of seconds, helping to convey the business's message with both images and sound.
4. Advertising by Pop-up:  With this form, information and advertising messages of businesses are displayed below the TV screen. Pop-up advertising has the advantage of being able to advertise directly in programs, helping viewers to watch TV programs and advertising content at the same time.
5. Program sponsorship:  This form of advertising has 2 ways: broadcast sponsorship and program production sponsorship. This is a form of advertising chosen by large enterprises to promote products and services.
6. Consumer consulting and self-introduction program:  Similar to TVC ads, but with longer duration, from a few minutes to several tens of minutes, helping to fully state the advantages as well as features Highlights of products and services.
7. Advertising with simple information:  Information that is only displayed in the form of simple words and images, such as sad news, thank you notes, papers, enrollment notices, and invitations to bid.
Products/services that require a license to advertise on television
Currently, the law specifically stipulates products/services that will need to apply for a license to advertise on television  before proceeding, including:
– Drug advertising
– Cosmetic advertising
Advertisement of chemicals, insecticidal and germicidal preparations for household and medical use
– Advertise milk and nutritional products for young children
– Advertising food, food additives
– Advertise medical examination and treatment services
– Advertising medical equipment
– Advertisement of pesticides, plant protection drug ingredients, plant protection supplies
– Advertising veterinary drugs, veterinary supplies
– Advertisement of fertilizers, biological products for cultivation, animal feed, and biological products for livestock production.
The application for a license to advertise on television includes:
To be granted a license to advertise on television by the authorities  , customers need to prepare a set of documents in accordance with the law, including:
– Registration certificate certifying product/service advertisement content;
– Certificate of business registration;
– The script of the promotional video (02 CDs (insert the name and address of the company applying for an advertising license);
– Promotional products
– References, scientific documents proving the advertising information in case the advertising content is not included in the detailed product information sheet which has been certified by the competent authority. In case the supporting documents are written in a foreign language, they must be translated into Vietnamese.
– Implementation time: 10 working days.
Also for accompanying food ads
– Certificate of food hygiene and safety of the product
– Certificate of satisfaction of the factory's city hygiene and safety conditions
Pharmaceutical advertising (drugs)
– Certificate of registration of  drug circulation in Vietnam;
Advertising medical equipment
– Factory ISO management certification; or an EC . Declaration of Conformity
– Certificate of product circulation in the host country (Certyficate Of Free Sales)
Cosmetic advertising:
– License for cosmetic circulation in Vietnam;
HD 1080i broadcast file format standard
a. Video
– File format: MXF, OP-1a
– Video Codec: MPEG2 Long GOP
– Format Profile: 4:2:2
– Scanning method: Interlaced
– Field Order: Upper field first
– Aspect Ratio: 16:9
– Bit rate: 50 (Mbps)
– GOP Size: 12
– Resolution: 1920 x 1080
– Frame Rate: 25 fps
– Bit depth: 8 (or 10)
b. Audio
– Audio coding: Uncompressed PCM
– Quantization: 16/20/24 bits
– Sampling frequency: 48 KHz
– Audio Level:
o Standard: – 20 dBFS
o Peak: -18 dBFS
– Loudness :
o Nominal Level: – 23 LUFS/+ -1LU
o Maximum level: -18 LUFS
Audio channel layout with different program genres:
For stereo programs
CH1 PGM Left
CH 2 PGM Right
2. Other regulations
– General standard on signal carriers
o DVD disc: DVD-Data recording type
o USB: USB 2.0 interface or higher
– The advertisement form sent to TVAd must be in the data type recording file format in DVD or USB. Each DVD or USB disc can only contain 1 file. – Do not combine many different TVCs or 01 TVC multiple times into 01 TVC with longer duration. – Footer text or subtitles: Located in the title safe area. The color contrasts with the background (text is clear), the text runs or stops the image long enough for the viewer to read, the font size must be greater than 70 for Arial. 
VTV advertising contact information
| | |
| --- | --- |
| ‎✅Advertising agency VTV:  | ⭐ Fame Media |
| ✅Hotline: | ⭐0938-909-901 |
| ✅Specialize in: | ⭐ VTV advertising, LCD advertising , billboard advertising |
| ✅Estimated  budget: | ⭐ 70,000,000 VND/month |